a Papuan bewildered (before he is thrilled)
in the midst of the laughing musicians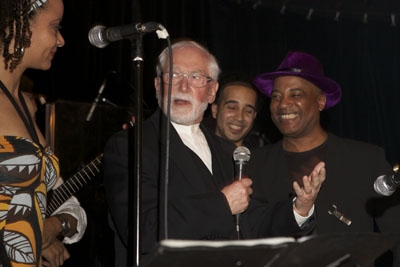 Saturday 3d April. The Parisian Arès Pilgrims' mission has a party to the music of "Pious Gens" (named after Rev of Arès xLv/12-16), a group built up by Daniel, one of our brethen, who sings of The Revelation of Arès to a very trendy music and rythm which in the end will thrill and delight me tonight.
You said "in the end"? Yes,I did, because the preparation of the event and then the event itself have made me successively an innocent primitive Papuan in 2009, a surprised Papuan on April 3d at 07:15pm and a delighted Papuan at 10:30pm that same day.
I had for a few months been invited to join "Pious Gens" by Daniel, their leader, and Jeff, one of his supporters. Both are brethen of faith. The starting idea: A spiritual mission that would share music and lyrics on the theme of The Revelation of Arès plus short speech(es) by Brother Michel. As I regarded myself as quite unfit for such a venture, it took me a few months to think over it.
In one respect, my brothers had never invited me to speak in public in a surrounding suited to my word's sacred nature, so I thought that being invited to speak from the midst of guitars, saxophones, piano, drum kit, singers and vocalists, to a public just there for fun and dance might be better than waiting until I die all by myself in my own little corner without speaking to the world.
In another respect, I could not play an instrument or sing or dance, so I wondered what an old man of God was able to do in a party hip or over the top (how do you put it?).
I eventually suggested the idea of an experimental musical party with a public limited: The Paris Arès Pilgrims and their guests. Experimental... a kangaroo hunter's precaution whispered into my ear by Aghela (Rev of Arès xxxi/13), my accompanying angel who was well aware that I had stayed very archaic, an old man continuously isolated in prayers, meditation and spiritual correspondence, by no means conscious of a capital fact, namely that I could not have a correct idea of what a brum! brum! party might be, just as a Papuan in the depths of his Papua New Guinea forest could not have a correct idea of what the USA is just by looking at a New York postcard.

Saturday April 3d, 07:15pm. I enter the hall and immediately step back mumbling, "Bad luck! A power failure!" Somebody puts my mind at rest, "But no, all's natural ! That's done in the dark." "Really?" I'm feeling my way along among prattling shadows. A primitive Papuan caught in a sudden solar eclipse I am. God isn't right in the head, is He? I am offered a seat in the darkness and all of a sudden, from the far end of this dark forest a squadron of jets roaring, their exhaust nozzles in fire, their machine guns in action, irrupts flying low over my Papuan forest. The music has started. The singing follows, of which I can't catch a word at first. The audience, on the other hand, looks like they got everything, as comfortable as a commingling of earthworms in their tunnel. In this Papuan forest under a sun eclipse I can make out some shadows that wave to me, but I can't identify them. How can they identify me? I rather robotized wave back to the shadows.
After the first intermission the sound softens, so I can now understand the lyrics; they begin to delight me while I begin enjoying the music. Much! Soon I feel a craze for these music and song rising within me, I feel like a strictly brought up young man discovering the world's life, in this case an artistico-spiritual potential (there must be a better word: rock spiritual?). I sense the entertainment as an artistic expression rather specialized, indeed, designed for a targeted public, a young public, not really an entertainment fit for all ages and classes that an apostle expects to meet, but I guess that I'm going to think over it.
After the second intermission, I am asked to tell the audience something. I step onto the stage, bewildered, because anything that I could have prepared to tell will sound out of place here. So I improvise a short speech, that I think is consistent with the festivity spirit, and that, I hope, is not too much for the crowd in the dark in front of me.

In the end, as I said above, I quit this experience delighted. Had not sister Christiane, my wife, forced me to leave the place at 10:30pm on the pretext that my health could not endure more, I would have stayed there until the party was over and even danced... I mean I would have along with everybody fidgeted, wriggled around, squirmed—I don't know how to put it; in my youth one had to either learn how to waltz, tango, fox-trot perfectly or refrain from dancing... Hence my holding back from dance for 80 years.
In short, I didn't see any evil in that music and way of dancing or anything in the festive party. Well done, Parisian brethen! You made a success of the event! You allowed me to check something I had long suspected, that a popular entertainment is likely to spread the Creator's Word.
All in all, King David's psalms might have been in the old days no more than the songs that Daniel sings today while leading "Pious Gens", an excellent group!
"Pious Gens", a name you have to remember! Just go and be at it whenever it's showing!
May the Father, the Great Hoper, bless all of those who sing of Hope one way or another, alleluia!